Alabama Driving Test
Taking a driving test in Alabama is not much different from taking a drivers license test anywhere else around the country. The drivers test is administered by the Alabama Department of Public Safety and it must be scheduled well in advance if you want to get the date that is convenient for you. If you are applying for your first license, you must receive a learners license before you can schedule your Alabama drivers license test. Teenagers taking the driving test before their 18th birthday will need to meet all graduated license requirements prior to taking the road skills exam.
Driving Test Requirements
Taking the driving test is one of the final steps in the process of obtaining an Alabama drivers license and you have to meet certain requirements before you get to this stage. Driver test requirements are age dependent, since teenagers have to observe the Alabama graduated license law. In fact, some graduated license rules apply even after the drivers test is successfully completed. We have broken the requirements into two groups, for those who are under 18 years of age and everyone else, so you can skip right to the section that concerns you.
Driving Test Requirements - Under 18 Years of Age
The first thing you should do is to get an Alabama learners permit, which is also referred to as a learners license. You must take a knowledge exam and go through vision screening before the DPS issues you with your permit.
The main purpose of granting you a drivers permit is to allow you to practice driving skills before you take your Alabama driving test. Don't get confused by those who refer to this permit as a "license", in no way does your learners permit grant you full driving privileges. In fact, you are not allowed to drive alone and must have a licensed driver at least 21 years of age (if you are younger than 16) or any other licensed driver (if you are at least 16) seated next to you whenever you're driving. Other Alabama permit restrictions also apply, so make sure to check them out before you hit the road.
The permit must be held for at least six months. During this period, you have a choice between completing an Alabama drivers education course or doing at least 30 hours of supervised driving practice with your parents. Also most teens choose the second option (for quite an obvious reason - it is completely free), we advise that you do not dismiss the importance of driver education classes. Drivers ed can teach you advanced defensive driving practices most of the parents have no clue about, something that will definitely come in handy when you take the Alabama drivers license test.
Is the holding period over? Great. Now is the time to visit the DPS and take your drivers test. Keep in mind, you have to schedule the test well in advance, walk-ins are not accepted.
Drivers Test Requirements - 18 Years of Age and Older
Testing requirements that are presented before adults are exactly the same. In fact, the whole process is very similar and adults must also obtain a driving permit before taking the DPS driver's exam. When you submit your application for a permit, you are required to take the Alabama driver permit test that covers the state driving rules and traffic signs. If you are not sure whether you are ready to tackle the knowledge exam, go ahead and try yourself against a free Alabama driver practice test. When you successfully pass the knowledge exam and a vision test, you are issued with a driver permit.
This is where the differences start. Unlike teenagers, you do not have to hold your permit for any certain period of time before scheduling the driver's test in Alabama. In fact, you can take the driving test the next day, if the DPS has a free spot that you could schedule for. However, we advise against such approach, unless you have prior driving experience. There is not much chance that you pass the driving test right away if you have never driven a vehicle, so take your time and practice before you try to road skills test.
Once you are ready, schedule the driving test with the Alabama DPS, take the test and get your Alabama drivers license.
Schedule the Road Test
When it comes to making an appointment for the driver's test in Alabama, you are not bereft of options. In fact, you could say that the DPS in Alabama is at the top of the list around the country when it comes to making the process of scheduling a driving test as easy as possible. You can make an appointment on the phone, by e-mail, in person or through the online Internet service. Appointments may be scheduled up to two weeks in advance.
If you want to schedule an appointment through the Internet service, proceed to the DPS website and you shall find the link to the service on the main page. You will be required to provide your Alabama learners license number and your contact details. Once the appointment is made, you are e-mailed a confirmation with the appointment details.
Things to Bring / What to Expect
You must be aware of the fact that the DPS does not provide vehicles for driver testing, so it will be up to you to come up with a vehicle to take the test in. The vehicle must be registered, insured and titled. The vehicle must also be in good mechanical condition. Your driving examiner will run a quick safety inspection of the vehicle before the test begins, if the vehicle's mechanical condition is found to be unsatisfactory, you will be denied a chance to take the driving test on that day and will need to reschedule. The official Alabama driving manual has a list of equipment that must be present in the car, make sure to check it out.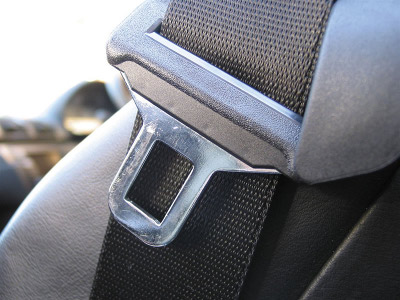 Unless you currently hold a driver license that allows you to drive a vehicle in Alabama, you will need to have someone drive you to the testing site or supervise you while you are driving to the site (remember, your permit does not grant you the privilege to drive without supervision). Make sure to have your permit with you when you arrive at the site.
During the driving test, only you and the examiner will be present in the vehicle. You cannot bring friends, relatives or pets with you into the testing vehicle. If you bring a pet to the testing site, you must make sure that you also bring someone to take care of it while you are off on the test.
The examiner will score your driving skills as you go through the test. You are usually scored on the following things:
Right and left turns
Signaling (hand or approved electrical devices)
Use of marked and unmarked lanes of traffic
Backing of vehicle
Observance of traffic signs and signals
Making a quick stop
General control of vehicle
Observation
Three point turn. Stop vehicle at right edge of curb. When safe, make sharp left turn; back vehicle. Move forward in right lane. Do not bump curb or use driveway.
Parking (uphill or downhill)
The instructor will keep on scoring you throughout the test. Don't stress when you see the examiner writing, it does not mean that you did something wrong.
At the end of the test, the examiner will point out all of the mistakes you may have made and will explain what driving maneuvers need to be practiced a little more. If you do not pass your Alabama driving test at this time, the examiner will also tell you when you can come back for another try.
Those who passed the drivers exam are issued with a temporary drivers license. Your real driver license is sent to you in the mail and you should receive it within 2-3 weeks from the date you take the test on. If you do not receive your license within a few weeks, make sure to contact the DPS and check upon the status of your license.