Today we are looking at one of the questions from our Indiana BMV practice test that deals with identifying road signs by shape. Identifying road signs by shape is an important skill since it allows you to prioritize road signs even if you are moving past them at high speed and figure the meaning of the sign even if you did not have enough time to read the message on it. The BMV recognizes the importance of this skills and frequently includes questions that ask you to identify a road sign by shape or color into the Indiana permit test. If you have not read the drivers manual yet and do not know how road signs differentiate by shape and color, please do so before you proceed further with this question.
Sample Question
"A PENTAGON-SHAPED SIGN IS:"
A. A regulatory sign
B. A lane use control sign
C. A work zone sign
D. A school zone sign
E. There are no pentagon-shaped signs in Indiana
Let's go over these answers in more details and figure out which one of them is correct.
Answers To The Sample Question
Answer A states that a pentagon-shaped road sign is a regulatory sign. This is a trick answer for those who cannot tell an octagon from a pentagon. Most of regulatory signs are vertical rectangles or squares, with an exception of a stop sign, which is an octagon, and a yield sign, which is an inverted triangle.
Answer B suggests that pentagon-shaped signs are used for lane use control signs. Lane use control signs are regulatory signs and they are shaped as vertical rectangles.

Answer C states that work zone signs are shaped as a pentagon. We know that work zone signs belong to warning signs and they are normally diamond shaped. Some of the work zone signs are rectangular, but none of them are shaped as a pentagon.
Answer D suggests that pentagon-shaped signs are used to mark school zones. So far, this looks like the best answer.
Answer E claims that there are no traffic signs shaped like a pentagon in Indiana. This is not true.
Correct Answer
The correct answer to this Indiana BMV permit test question is D:

"A PENTAGON-SHAPED SIGN IS A SCHOOL ZONE SIGN"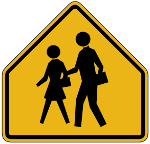 This is the only road sign in the country that uses the shape of a pentagon so you will never confuse it with anything else. When you are approaching a school zone, you should slow down and be on the lookout for children that may be playing near the roadway or crossing the street. While most of the school zone signs are yellow, since it is a warning sign, it can also be fluorescent green.
If you want to prepare for the permit test with more questions like the one above, please take the complete Indiana BMV practice test!
Want to receive a practice permit test question to your twitter every day until you pass your permit test? Follow us on twitter and get unlimited sample test questions!