Colorado Drivers Test
Taking a Colorado drivers test is mandatory for everyone who wishes to obtain a drivers license in the state and have never been licensed before. The minimum age for taking a driving test in Colorado is 16 years and you need to already have a drivers permit and have fulfilled all graduated license requirements before taking the exam. In Colorado, the driver's license test is administered by the Department of Revenue, Division of Motor Vehicles (DMV) and you should contact them to schedule your road skills exam in advance.
Driving Test Requirements
Taking the driving test is one of the final steps in the process of obtaining a Colorado driver's license and you are required to meet certain licensing requirements before you get to this stage. Drivers test requirements are age-dependent, so we have broken the instructions into a few sections. Just locate the section that covers your age and jump right to that point.
Under 18 Years of Age
Those who want to take a driving test before their 18th birthday need to follow the Colorado graduated driver's license program that mandates the licensing procedure for teenage drivers. The program may seem a little confusing, since there is a number of different learners permit available and it may be hard to figure out which one you need.
OK, so first thing you need to do is to get a Colorado drivers permit. As already mentioned, a few permits are available - a drivers education permit, a driver awareness permit and a minor instructions permit. Check out the article on how to apply for a Colorado learners permit, it will help you figure out which permit you need and what are the application requirements (for example, a drivers education permit requires you to complete a state-approved Colorado drivers ed course prior to applying).
At the time when you submit your application for a permit, you will be required to take a vision exam and a knowledge test. When those tests are passed and you have to permit at hand, you can start driving under the supervision of the person who signed the Affidavit of Liability at the DMV (it's usually your parent or legal guardian). The signer may also delegate the supervising task to another driver at least 21 years of age.
You must hold your drivers permit for at least 12 months before you become eligible to take a Colorado driving test. During these months, you must observe all Colorado permit restrictions. You must also complete at least 50 hours of supervised driving, including 10 hours at night. If you are under 16 years, six months when the time comes to take the drivers license test, you must also complete at least six hours of behind the wheel training with a professional driving school.
Finally, when all of the above requirements are met, you are good to schedule the DMV drivers test and receive your first drivers license. There is a catch here too. The license that you receive is marked as provisional or junior license and you will need to follow all Colorado junior license restrictions until you upgrade it to a full driver license.
18 Years of Age and Older
Meeting the driving test requirements in Colorado is much easier when you are at least 18 years of age. Although testing requirements remain the same, you don't have to follow any of the graduated license rules.
Your first step is to learn the driving rules and to obtain an instruction permit. Grab yourself a copy of the Colorado driving manual, it contains all of the rules you need to know. You may also wish to test yourself with free Colorado driver practice tests before you visit the DMV and file your application for a permit.
The DMV will require you to take a vision exam and a Colorado permit test before you can be issued with a permit. If these tests are passed and your paperwork checks out, you are issued with a drivers permit and can start your driving practice.
There is no minimum amount of time that you need to hold your permit for before scheduling your Colorado driver's test, however you should take your time getting accustomed to the vehicle, especially if you have never been licensed before. A good rule of thumb is to follow the DMV recommendation for teenagers and practice for at least 50 hours before taking the road test.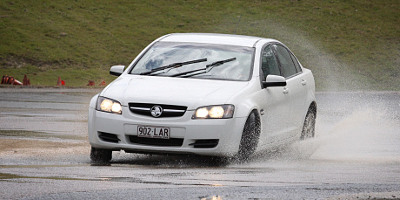 Scheduling the Road Test
You need to schedule the road test with your local DMV branch. The list of DMV branches is available at the back of the drivers license handbook or you may also access it at the DMV website.
The drivers test must be scheduled well in advance. Mondays and Fridays are usually the busiest days, so it is much easier to get an appointment on Tuesday, Wednesday or Thursday.
If you are unable to keep your appointment, you need to reschedule at least 24 hours in advance. You must also arrive for your appointment at least 5-10 minutes early, as if you are even a little late, you will be denied the chance to take the road test.
Things to Bring / What to Expect
The vehicle to take the test in is probably the first thing you should concern yourself with. The DMV does not provide any vehicles for you to take the test in, so you must either use your own vehicle or borrow a vehicle from someone else. The vehicle that you use for your Colorado driving test must be licensed and you must also have liability insurance. All of the vehicle's equipment must be functional. Your driving examiner will run a quick safety inspection of the vehicle before the test begins. If the vehicle does not pass this inspection, you will need to reschedule the test for another date.
You cannot drive to the testing site alone and must either have a supervising driver accompany you or have someone else drive the vehicle to the testing site. During the road skills exam, only you and the examiner will be present in the vehicle. If you bring any friends or pets with you to the DMV, they will have to remain at the office.
During the drivers test, you will not asked to do anything illegal and the examiner will not try to trick you. If you have any questions about the test, you should ask them before the test begins, talking during the test usually distracts you and your examiner.
During the drivers license test in Colorado, the examiner assesses how the applicants performs the following driving maneuvers:
LANE SELECTION: Enters/exits traffic from proper lane, approaches intersections in proper lane, ends maneuver in proper lane.
LANE MANAGEMENT: Remaining entirely within the turning lane, keeps both hands on the wheel, uses approved method of steering control (hand-over-hand or push-pull-slide), keeping vehicle centered in appropriate lane at start and finish of maneuver, starts/finishes turns in proper lane, does not encroach over lane markings, or drag wheels over curbs.
SIGNALS: Activates signal the proper distance in advance of turning or making a lane change, cancels signal, if necessary, after completion of maneuver.
SPEED CONTROL: Smooth deceleration, does not impede traffic, adjusts speed to react to traffic or conditions, maintains steady speed during lane change, approaches intersection at a speed which allows the turn to be made without stopping or braking during the turn.
STOPPING: Does not encroach over stop line, crosswalk, keeps vehicle wheels pointed straight ahead while stopped, does not turn wheels until actually beginning to make the turn, maintains an adequate gap between vehicles (rear wheels of vehicle ahead are visible and/or uses three (3) second following distance to stop).
ACCELERATION: Accelerates smoothly without jerking, doesn't lug engine, coast, impede traffic, clash gears, or stall vehicle.
OBSERVATION: Observes the traffic environment, looks over shoulder before changing lanes, uses mirrors, looks left, right, left prior to entering intersections.
GENERAL DRIVING BEHAVIOR: Steering, braking, acceleration, observation, lane usage, and obeying all traffic laws, signs, and signals.
The examiner will score the test as you drive and will show you the test results once you are done. The examiner will also explain the mistakes you may have made while taking the exam. If too many errors were made, you will have to reschedule for another date. In most situations, you need to wait at least one day before retaking the driving test, however the examiner may decide that you need to practice a little longer than that.
Once you pass the road skills exam, you are issued with a temporary drivers license that is valid for 30 days. Your real Colorado drivers license should arrive in the mail within this period.