Questions on road signs have always been an important part of the Connecticut permit test and you should invest sufficient time into studying them. Most people think they can answer questions on road signs without studying the manual and fail badly when they visit the DMV to take their permit test. Some states have separate sections of the test that include only road signs and students cannot fail even one question on road signs if they want to pass the exam. Today we are looking at one of the sample CT permit test question on road signs. Make sure to check out the complete Connecticut permit practice test if you want to do more practice questions before you hit the office!
Sample Question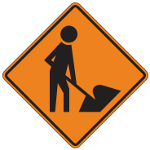 "THIS SIGN MEANS THAT:"

A. A community service group is picking up trash along the highway ahead
B. Workers are on or very close to the road in the work zone ahead
C. Children are at play ahead
D. There is a pedestrian crosswalk ahead
If you don't know the answer to the question but would like to search for it by yourself, please refer to the official Connecticut drivers handbook, it lists all Connecticut road signs and your permit test is based entirely on the information that appears in the book.
Answers To The Sample Question
Answer A states that the sign in the picture means that a community service group is picking up trash along the highway ahead. While the sign definitely looks like someone is cleaning something off the roadway, this is not what this sign means. In fact, no signs are installed in places where volunteers are picking up trash along the highway (usually part of the Adopt-a Highway program), since volunteers are forbidden to enter the road while picking up trash. Most states mandate that volunteers stay at least five feet away from the edge of the roadway and thus they are not in danger to be hit by a moving vehicle.
Answer B suggests that this sign means that there are workers on or very close to the road in the work zone ahead. This looks like a good answer, but let's see what other options we have. Never make the mistake of choosing the right answer before you went through all available options.
Answer C states that the sign warns us about children that may be near the roadway. There is only one sign that warns you about children that may be playing near the roadway and that is the "school" sign. The school sign is highly distinctive, it is the only pentagon-shaped sign and it is yellow or fluorescent green, so you will not confuse it with any other road sign.
Answer D claims that this traffic signs warns us about a pedestrian crossing ahead. While this sign matches the "pedestrian crossing" sign by shape, it is not yellow, like all warning signs are, so you could dismiss this answer right away. The "pedestrian crossing" sign features a walking human figure.
Correct Answer
The correct answer to this Connecticut permit test question is B: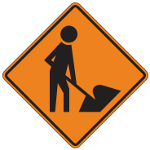 "THIS SIGN MEANS THAT WORKERS ARE ON OR VERY CLOSE TO THE ROAD IN THE WORK ZONE AHEAD"
This question is very easy to answer if you know how to identify road sign by shape and color. Diamond-shaped orange signs are always work zone or construction zone signs. If we apply this rule to the list of answers we were provided with, we will see that only two answers fit this condition and answer A is incorrect because there is no dedicated sign for service groups cleaning up trash along the highway.
You must always reason through all permit test questions, since it will maximize your chances of passing the test even if you don't know the right answer off the top of your head. Always read all answers before selecting the right one.
For more questions like the one above, please check the complete Connecticut practice permit test that has questions on road signs and road rules.
Want to receive a practice permit test question to your twitter every day until you pass your permit test? Follow us on twitter and get unlimited sample test questions!