Arizona Driving Test
All firs time driver's license applicants must take the Arizona driving test before they can be issued with a drivers license. Taking the road skills exam is optional for those who currently hold a license issued by a different state and would like to exchange it for an Arizona driver license. Contrary to the common belief, the drivers license test doesn't just check your ability to control the vehicle, your knowledge of the driving laws is also assessed. While many driver license applicants are looking for a quick fix while getting ready to take their Arizona drivers test, believe us when we say that there isn't one. There is only one way to pass the tests and that is practice. The more you practice, the better are your chances at passing the road test.
Drivers Test Requirements
Taking the driver test is one of the final steps in the process of applying for an Arizona drivers license and you will need to go through certain procedures and meet a number of licensing requirements before you can get to this stage. Drivers license requirements are age dependent and teen drivers will need to follow the Arizona graduated drivers license program. For your convenience, we've broken up these instructions into two groups, so you can concentrate on the rules that apply to you.
Under 18 Years of Age
The first step for you is receiving a graduated permit. In order to do so, just visit one of the MVD offices, take an Arizona permit test and a vision exam and present all of the required paperwork. Once you pass the tests, you are issued with a graduated permit that you can use to practice driving. Keep in mind that the permit does not grant you full driving privileges and you must be supervised by a licensed driver 21 years of age or older whenever you are behind the wheel.
You will need to hold your permit for at least six months and be no younger than 16 years of age before you can schedule your Arizona drivers test. During these months, you must either complete an MVD-approved Arizona driver's education course or at least 30 hours of supervised driving with your parents, including 10 hours at nighttime.
When all of the above requirements are met, you are good to go ahead and make an appointment for the Arizona driving test. You will have three attempts at passing the drivers license test. Once you pass the exam, you are awarded with a graduated drivers license. Keep in mind, this is not a full operator's license yet and you must observe all Arizona graduated driver's license restrictions for the required period of time (usually until your 18th birthday).
18 Years of Age and Older
Obtaining an Arizona learners permit is the first move you must take. Visit one of the MVD offices, file the paperwork and t ake a vision exam and the permit test. The knowledge test is based on the information provided in the Arizona drivers manual and you should make the book your primary resource when studying for the exam. If you are in doubt whether you know the rules well enough to pass the test, you can go ahead and take an Arizona drivers practice test that covers the same topics as the real exam.
Once you have your drivers permit, practice driving under the supervision of another licensed driver at least 21 years of age. Observing Arizona permit restrictions is a must, those caught breaking these restrictions may be stripped of their driving privilege altogether.
There is no certain period of time that you need to hold your drivers permit for before you take your drivers license test, however you should try to obtain as much practice as you can. If you are unsure as to how many hours is enough, you can follow the MVD recommendation for teenagers, they are required to complete at least 30 hours of supervised driving prior to taking the Arizona driving test.
Finally, once you pass the driver test, you are issued with a full unrestricted operator's license.
Scheduling The Driving Test
There are a few ways to schedule your Arizona driving test, you may either call the MVD or visit one of the local branches in person. You should try to schedule the road test as early as possible, so you can reserve a date that is convenient for you. Drivers license testing is not conducted on walk-in basis.
What to Bring / Things to Expect
The driving test in Arizona is very similar to drivers license tests in other states, so if you ever took it somewhere else, you should know what it's all about. Those who are taking the driver's test for the first time, read on.
The Motor Vehicle Division does not have any vehicles available for testing, so it will be up to you to arrange for the vehicle for the road exam. The vehicle must be registered and titled, you must also carry adequate liability insurance. The vehicle must be in good technical conditions and all equipment, such as windshield wipers, the defroster, indicators must be working. If the vehicle is equipped with seat belts, they must also be clean and working.
You need to arrive to the drivers testing location at least 10-15 minutes before the test begins. This should give the examiner enough time to verify your identity and run a quick safety inspection of your vehicle. During the test, you will be scored on the following things:
Parallel parking. Parallel parking is a very common maneuver that you will need to be able to perform on daily basis. Practice this maneuver in a parking lot and on a real street.
Quick stop. An emergency situation will be simulated for you, to check your ability to stop the vehicles quickly, while maintaining control over it.
Backing. You will have to back the vehicle for 30-50 feet in a straight line, while looking over your right shoulder.
Traffic signals and stop signs. You must prove that you can control the vehicle and observe all driving rules at the same time.
Use of clutch. This skill is only required for those who plan to take the test in a vehicle equipped with manual transmission.
Intersection observance. While driving through an intersection, you are to scan for traffic that may be approaching the intersection.
Turns. Make sure to stay in the right lane once the turn is complete.
Right-of-way. Yield to vehicles when appropriate.
Passing. Make sure there is enough space for you to pass, return to your lane once the maneuver is complete.
Proper lane observance. Lane straddling is a serious offense, try to stay in the middle of your lane at all times.
Following. Keep a safe distance from the vehicle in front of you.
Posture. Keep both of your hands on the steering wheel, stay alert.
These are just a few things that are covered by the Arizona drivers test. As you may see, most of these maneuvers are part of your everyday driving, so no special training is required, however you should try to practice as much as possible before you take the exam. Practice is really the only thing that can help you develop your safe driving techniques.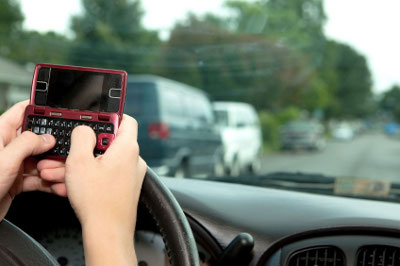 Once you pass the road skills exam, you are issued with a drivers license. For applicants at least 18 years of age, a full operator's license is issued. Teenagers are awarded with a graduated drivers license that is upgraded to a full license once the applicant reaches the age of 18.
Third Party Testing
The MVD licenses third parties to conduct drivers test in Arizona. You may take your driving test through one of these licensed testing locations, the list of the locations is available in the drivers handbook.