Today we are covering one of the questions from the Minnesota practice permit test that quizzes your knowledge of road signs. We presume that you have already read the drivers handbook and went through Minnesota road signs at least once. Remember, learning road signs is crucial to passing the permit test, don't let a few mistakes hold you back! Cover this sample question, then take the complete permit practice test on the site!
Sample Question
"THE SIGN IN THE PICTURE REQUIRES YOU TO:"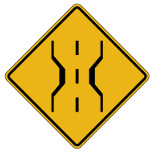 A. Give way to all traffic traveling in the opposite direction

B. Slow down, give way to large vehicles coming towards you

C. Reduce speed if the road is wet

D. Do not travel past the sign if you are in a large vehicle
Remember, you can select only one answer! If you think that two answers fit, choose the one that fits best! If you are not sure what the correct answer is but would like to look for it yourself, refer to the Minnesota drivers manual.
Answers to The Permit Test Question
Answer A to this sample question suggests that you give way to all oncoming traffic. This is more of a trick answer that may trip some students, but you should know that this answer is incorrect.
Answer B to this practice question states that you need to slow down, give way to large vehicles coming towards you if required. This looks reasonable, but let's not make the mistake of rushing through these questions and read all answers before picking the right one.
Answer C to this permit practice test exam asks you to reduce speed if the road is wet upon seeing this sign. If you have selected this answer, you are wrong. There is a separate sign called "slippery when wet" which shows a skidding vehicle, it is very hard to confuse it with something else.
Answer D to this practice permit test MN question tells us that we are forbidden to travel past the sign if we are driving a large vehicle. This answer can be crossed out simply because the sign in the picture is clearly a warning sign, while we can only be forbidden to do something by regulatory signs.
Correct Answer
The correct answer to this sample question is B: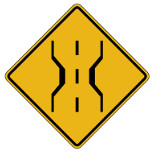 "THE SIGN IN THE PICTURE REQUIRES YOU TO SLOW DOWN AND GIVE WAY TO LARGE VEHICLES COMING TOWARDS YOU"
This sign is actually called "Narrow Bridge or Underpass Ahead" and it simply warns you that the road ahead of you will be narrowing, to large vehicle may have to enter other lanes to pass this spot. You should always slow down when you see this sign to allow yourself sufficient time to react should a large truck moving in the opposite direction enter your lane. Always give way to large vehicles that have already entered the narrow spot or are about to enter it, remember that heavy trucks cannot brake as quickly as you.
We wanted to remind each and everyone of you that questions on road signs comprise an important part of the Minnesota permit test and you would do well learning them well. Learning traffic signs is not hard, just learn to identify signs by shape and color first and you will see that it will become much easier after that!
Want to receive a practice permit test question to your twitter every day until you pass your permit test? Follow us on twitter and get unlimited sample test questions!