The state of New York places a lot of importance into road signs and that's why there are at least four question on road signs in the NYS permit test. Keep in mind, you cannot miss more than two of these road signs permit test questions, so you should really dig into the signs and learn them all well before you hit the DMV office. Our NYS practice permit test was designed to help you learn NY traffic rules and road signs and today we are looking at one of the NYS Practice Permit Test questions in more details.
New York State Permit Test Study Guide
While we trust that this NYS learner's permit practice test will be of great help to anyone getting ready to take the New York drivers permit test, we still urge everyone to start with reading the official NYS driver's manual. The reason why you should read the book prior to taking sample exams or doing any other studying is because the book is a compilation of all road signs, traffic regulations and laws that you need to learn to be able to pass the test. The information for the exam comes straight from the book, you really don't need any other study guide, reading the book will allow you to pass the test on your first try. Better yet, the manual is completely free and you can download it off the DMV website any time and either print it out or just read it off the screen. Don't miss your chance to prepare for the NYS DMV permit test, if there is one thing you absolutely must do before taking the exam, it is reading this handbook!
NYS Learners Permit Practice Test Question
"WHAT SHOULD YOU BE MOST CONCERNED ABOUT WHEN YOU SEE THIS SIGN?"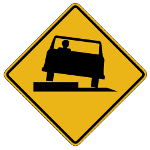 A. Driving with your headlights out of alignment because one side of your car is higher than the other

B. Damaging a tire, if you drift onto the shoulder

C. Hydroplaning, if the shoulder has water on it

D. Losing control of your vehicle, if you drift onto the shoulder, because of a drop off
The right answer is at the end of the page, you can skip right to the bottom to check if you are right. Otherwise, read on for more details to each one of these options.
NYS Permit Test Answers
Answer A to the NY permit practice test question suggests that this sign reminds you that your headlights must be properly aligned and that your vehicle must be level. This is more of a trick question some people may fall for when they see a car that is not level, however this answer is not correct.
Answer B to the NYS practice permit test question states that this sign brings your attention to the fact that you may damage your tire if you drift onto the shoulder of the road. While damaging a tire is certainly a possibility any time you drift off the road, this is not what this sign is about.
Answer C to the practice permit test NY sample question tells us that the sign in the picture warns us about the possibility of hydroplaning if the shoulder has water on it. Since hydroplaning car occur virtually anywhere, provided the rain is hard enough to cover the road with sufficient amounts of water, there is no special sign to warn drivers about it. You just need to know that hydroplaning may occur anywhere and act accordingly.
Answer D to the NYS permit practice test question suggests that you should worry about losing control of your vehicle if you drift onto the shoulder because of a drop off. This looks like the most reasonable answer out of the four options that we were offered.
Correct Answer To NYS Permit Test
The correct answer to this permit test NY question is D:

"WHEN YOU SEE THIS SIGN, YOU SHOULD BE MOST CONCERNED ABOUT LOSING CONTROL OF YOUR VEHICLE, IF YOU DRIFT ONTO THE SHOULDER, BECAUSE OF A DROP OFF"
If the shoulder of the road is soft or is located lower than the rest of the road, you may lose control of the vehicle if you drift onto the shoulder while still driving at high speed. This is why it is very important to slow down before you drive off the road. If you accidentally drift off the road at high speed, do not do anything rash, don't hit the brakes and do not try to steer sharply towards the road. Slowly ease off the accelerator, make sure that two of your wheels are still on the road, try to keep the drop off in between your left and right wheels. Keep slowing down, gently applying the brakes (if you start braking too hard on a soft shoulder, your car will be pulled towards the right edge of the road). When your speed is less than 25 mph (around 10 mph is advised), check for other traffic in the lane you're about to return to, switch the turn signal on and move back onto the road. Speed up to match your speed to other traffic.
Going off the road is a very dangerous experience. Watch out for these NY warning signs that warn you about low or soft shoulder:



Want to receive a practice permit test question to your twitter every day until you pass your permit test? Follow us on twitter and get unlimited sample test questions!