The New Jersey permit test can be called rather extensive, when compared to similar knowledge tests in other states. The DMV test in NJ has 50 questions, which means that your chances of simply winging the test without studying are extremely low. Quite a few of those questions will cover NJ road signs and it would do you a lot of good if you spend some time learning them. Our NJ DMV practice test has a number of questions on New Jersey traffic signs that you can go over and today we are covering one of such questions in more details. This question requires you to correctly identity the road sign that marks a highway with two way traffic. Make sure to do the complete NJ MVC practice test for other questions like this one!
DMV Practice Permit Test Question
"A HIGHWAY WITH TWO-WAY TRAFFIC IS MARKED BY WHICH OF THESE SIGNS?"

1.

2.

3.

4.





A. 2
B. 1
C. 4
D. 3
DMV Test NJ Answers
Answer A to this NJ DMV practice test states that sign 2 marks a highway with two-way traffic. If you already went through your traffic signs, you should know that this sign is actually called "DIVIDED HIGHWAY ENDS". Yes, it does mean that once the divided highway ends, you will most likely end up on a two-way highway and this would have been a good answer if you were not provided with an option that is even better.
Answer B to the NJ DMV practice permit test question suggests that sign 1 marks a highway two two way traffic. This is probably the worst answer out of the ones we were offered as there is virtually nothing that hints at two way traffic on this sign. Remember that this sign warns you that one of the lanes will end up ahead (in this case, the right lane) and that you should merge into one of the lanes on the left.
Answer C to this NJ MVC practice test question tells us that sign 4 is the right one. You should be able to pick this odd one out as soon as you look at the question. Note how all other road signs in the question are warning signs, while this is a regulatory sign (a lane use control sign, to be more precise). It uses a different color scheme that is typical for regulatory traffic signs and it actually shows you that you may turn left or right from this lane.
Answer D to this DMV practice test NJ question states that sign 3 is the right one. Since we already crossed all other sins out, this must be the right one.
Correct DMV Test Answer
The correct answer to this DMV test NJ question is D:

"A HIGHWAY WITH TWO-WAY TRAFFIC IS MARKED BY THIS SIGN"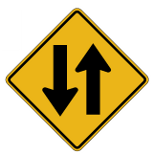 Keep in mind, the "TWO WAY TRAFFIC AHEAD" is one of the New Jersey warning traffic signs, it does not actually require you to do anything but warns you about the fact that you are approaching a two way street. All you need to do is stay to the right of the center line.
DMV Test Study Guide
If you are looking for the best way to prepare for your New Jersey permit test, you should go ahead and download a free copy of the New Jersey drivers manual. The book is packed with information on the state's traffic rules and road signs and the DMV test is based on the information presented in this book. Sure, you could pay for an expensive New Jersey drivers education program and it will have more information about defensive driving techniques, it may even have some advanced driving tips, but this free book is more than sufficient for passing the learners permit test and it does not cost a dime. Read the book, then take a free NJ DMV practice test and go to the DMV to take the real test as soon as you start receiving a score of 90% every time you do sample DMV questions.
Want to receive a practice permit test question to your twitter every day until you pass your permit test? Follow us on twitter and get unlimited sample test questions!