Permit test always includes questions on road signs and the Minnesota permit test is no exception to the rule. If you want to pass the permit test the first time you take it, you better learn the signs and learn them well. While learning road signs may seem hard at first since there are so many of them, it becomes much easier once you learn a few simple rules about the shapes and colors of the signs. Today we are looking at one of the questions from the Minnesota practice permit test that was designed to help you learn warning signs. Warning signs are usually diamond-shaped and feature black letters on yellow background.
Minnesota Practice Test Question
Before we get down to the sample question, we would like to remind everyone who is planning on taking the Minnesota permit test that there is no better way to prepare for the exam than by reading the official Minnesota drivers manual. The book was created by the DMV specifically for this purpose: to teach you the current traffic law and to allow you to prepare for the knowledge exam. All questions on the Minnesota permit test are based on the information in this book so you should make it your primary source of information.
"THIS SIGN IS USED TO WARN DRIVERS ABOUT:"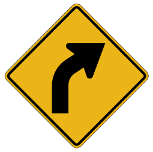 A. Upcoming intersections
B. Changes in traffic lanes
C. Road construction
D. Road curves ahead
Those who know the correct answer to this sample permit question can scroll down to the end of the page and verify whether they are correct. If you want to learn the reasoning behind each answer, read on.
MN Permit Test Answers
Answer A to this Minnesota practice permit test question tells us that this signs warns us about upcoming intersections. It is hard to say who would pick this answer since there is nothing in the sign that even hints at intersection and most of the road signs are very logical and easy to understand.
Answer B to this practice permit test MN sample question suggests that this sign warns us that there will be changes in traffic lanes that may require us to merge. This is not true since changes in traffic lanes are usually marked with regulatory signs, especially if they require us to change. Regulatory road signs are black and white, they do not match neither the shape nor the color scheme of the sign that it presented above.
Answer C to the MN practice permit test question tells us that the sign in the picture is used to warn us about road construction up ahead on the road. You could eliminate this answer right away since work areas and construction zones are marked with signs that are orange in color, while this is a yellow sign.
Answer D to the Minnesota permit practice test question claims that this sign is installed to warn drivers about a curve on the road up ahead. This seems like the most reasonable answer.
Correct Answer To Minnesota Permit Test Question
The correct answer to this Minnesota practice permit test Is D:

"THIS SIGN IS USED TO WARN DRIVERS ABOUT ROAD CURVES AHEAD"
There is a number of warning road signs that can be used to inform drivers about road curves ahead. Such signs may tell you the direction of the curve and the number of curves ahead, for example, the sign depicted in the picture means that the road will be curving right. All these road signs belong to the family of warning signs, they all feature the same diamond shape and are always printed on yellow background with black letters or signs.
Want to receive a practice permit test question to your twitter every day until you pass your permit test? Follow us on twitter and get unlimited sample test questions!