Learning Tennessee road signs is an integral part of the preparations for the Tennessee drivers permit test. While the permit exam will cover all road signs, you will probably see more questions on warning signs than any other group of traffic signs and there is an easy explanation to this - warning signs are simply the largest group of road signs. Our Tennessee drivers permit practice test contains questions on warning signs, among others, and today we will look at one of these sample questions.
Drivers Permit Test Study Resources
There are many different resources and study guides you could use when preparing for the Tennessee permit test (this Tennessee driver's permit practice test being one of them, obviously), but there is one study guide you simply cannot miss and that is the official TN drivers manual. Why should you study the book before you take the learner's permit test? Well, for starters, the drivers permit test at the DMV will be based entirely on the information that is presented in the book. You can find all Tennessee permit test questions and answers in the book, without having to visit any other website or read any other study guide.
Another important thing is that the book is completely free. That's right, you do not have to pay a dime for it, just log onto the DMV website and download a pdf file the book. You can either print it out or simply read it off the screen, whatever option is more convenient to you.
Don't get us wrong, we do not say that you should not use any other study resources and that is why we offer a free Tennessee drivers permit practice test here, but you should definitely read the handbook before you get down to doing practice tests or reading other guides.
Practice Permit Question
"THIS SIGN IS USED TO WARN DRIVERS ABOUT:"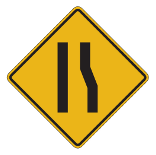 A. Added lane

B. Merging traffic

C. Right lane ends

D. Weave area
Let's work through these answers together to find out which one of them is correct.
Permit Test Answers
Answer A to the Tennessee drivers permit practice test question tells us that this sign means that there is an added lane ahead. This answer is incorrect. The "ADDED LANE" road sign is installed in advance of a point where two roadways meet and it shows you that merging is not necessary because there is a separate lane for the traffic entering the road.
Answer B to the TN drivers practice test suggests that this signs warns us about merging traffic. While there is such a road sign indeed, this is not what it looks like. The "MERGING TRAFFIC" road sign is usually placed on major highways before ramps or merging roads to warn you that there is traffic merging into your lane and show the direction that traffic is merging from. While you still have the right of way over that traffic, it may be a good idea to move into an adjacent lane if you have enough space and it is safe to do so.
Answer C to the Tennessee drivers license practice test question suggests that the road sign depicted in the picture warns us about the right lane ending ahead. This looks reasonable, let's look at the last option we have here.
Answer D to the Tennessee drivers practice test claims that this signs means that there is a weave area ahead. This is not what the "WEAVE AREA" road sign looks like.
Correct Answer To The Practice Drivers Test
The correct answer to this Tennessee drivers permit test question is C:

"THIS SIGN IS USED TO WARN DRIVERS ABOUT THE LANE AHEAD ENDING, ASKING YOU TO MERGE LEFT"
There are a few variations of this road signs, here is how they may all look:



Want to receive a practice permit test question to your twitter every day until you pass your permit test? Follow us on twitter and get unlimited sample test questions!