While the NYS DMV permit test does not have as many questions on road signs as some other states, you still need to learn them all. Knowing road signs and following their directions is important for your safety and the safety of your passengers. Our NYS DMV practice permit test contains numerous question on NY road signs and traffic rules and you should check out this sample exam before you take the real test. Today we are looking at one of the New York state permit test questions that cover road signs in more details.
NYS Permit Test Question
"THIS SIGN MEANS:"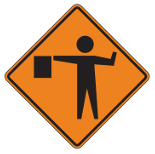 A. Pedestrians ahead

B. End of construction zone

C. School crossing ahead

D. Flagger ahead
Looking for more extensive information on New York traffic rules? Make sure to check out the NYS driver's manual! The book is great, it covers all of the state driving rules and it tells you what you need to study to pass your NYS DMV permit test. Unfortunately, the book does not cover all road signs in great details, so you may want to check out other online resources. If you want to take a sample exam after you go through the manual, make sure to take this free NYS DMV practice permit test, it covers a variety of state driving rules, defensive driving practices and road signs!
DMV Practice Test Answers
Answer A to this NYS DMV permit test question suggests that the sign warns us about pedestrians ahead. This answer is incorrect. A warning yellow shaped sign which is called "pedestrian crossing" is used to warn drivers about pedestrians on the road.
Answer B to the DMV practice permit test NY sample question states that this sign marks the end of a construction zone. While this is a work zone sign (also called a construction zone sign), it does not mark the end of an active work zone and this answer is incorrect.
Answer C to the NYS practice permit test question claims that this is a warning sign that warns drivers about a school zone ahead. This is incorrect. A sign that warns you about a school zone ahead (also called "SCHOOL") is the only pentagon-shaped sign. It is yellow in color and it features and adult with a child.
Answer D to the NY DMV permit test question tells us that this sign means "FLAGGER AHEAD". This looks like the correct answer to the question.
Correct Answer to The Permit Test NY Question
The correct answer to this New York state permit test question is D: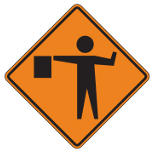 "THIS SIGN MEANS "FLAGGER AHEAD"
This sign means that there will be a flagger controlling traffic ahead. You should slow down and be prepared to stop when you see this sign as traffic will be either stopped completely or moving at a very slow pace. Once you approach the flagger, pay attention to the road sign he is holding. Keep in mind that you may pay large fines for speeding in work zones and road workers have the right to report you even if there is no police around.
Keep in mind: you are not learning these road signs just because you are applying for the New York drivers permit and need to pass the permit test. Knowing the state road signs will make driving much more safer and enjoyable for you.
Want to receive a practice permit test question to your twitter every day until you pass your permit test? Follow us on twitter and get unlimited sample test questions!