New York is getting ready to switch to a new type of drivers license the likes of which has never been seen before. Even though the latest NY drivers license spots a monochrome retro-style look, it is packed with hi tech security features that make this drivers license virtually impossible to forge. The main difference of the new drivers license is that it is manufactured from laser-engraved polycarbonate and features multiple security levels that will provide ultimate protection of personal information under the U.S. Department of Homeland Security's Real ID system.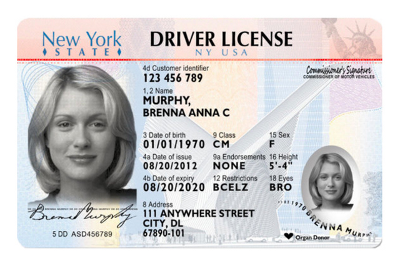 As you can see from the picture, the new drivers license look is strikingly different from the current license format. A monochrome picture really stands out since we are all used to full-color pictures on our Ids, but, despite looking more simplistic, this monochrome picture is much harder to reproduce than a regular color photo. The picture is engraved by a laser right on the polycarbonate base the New York drivers license is made of, the monochrome color is one of the limitations of this technique.
Other protection features include such things as a secondary small photo that appears to to be floating inside the license, prints that are done in wave-like patterns and personal data on both sides of the ID. The driving license also has bar codes that allow for easy access to personal information through the use of a scanner.
Similar measures have been introduced in Virginia in 2009 and since that time, more than 5000 people were presented with administrative charges related to manufacturing or possession of a fake Virginia drivers license.
Drivers license forgery is a big issue for homeland security since driver licenses are used as primary means of identification at airports nationwide. Right now, you can purchase a fake NYS drivers license through a number of websites for a relatively small fee. Keep in mind that using a fake ID is a federal offense and you will get prosecuted if you are caught.
If you are studying towards obtaining a New York drivers license right now, make sure to check out the free drivers permit practice test NY quiz that covers the rules of the road you will be tested on when you take the DMV NY permit test. The test features unlimited sample questions and you can take it as many times as you want.