Those who already took the New Jersey permit test know that the exam contains quite a few questions on road signs and this is why it is so important to learn the signs well before visiting the office. Some people think they can wing the road signs exam without studying since most of the signs are self-explanatory. While it is true that most road signs are easy to understand, some of the road signs permit test questions may be somewhat tricky. The DMV practice permit test NJ quiz that if offered on the site contains questions that will help you prepare for your permit test and today we are looking at one of such permit test questions that covers New Jersey warning signs.
DMV Test Question
Before we get down to this permit test question, we wanted to encourage you to go ahead and download a copy of the New Jersey drivers manual, the book that covers all permit test questions in great details. There is simply no substitute to reading the handbook, unless you want to pay hundreds of dollars for a New Jersey drivers ed program. While taking drivers education courses does offer you additional bonuses, such as a car insurance discount in the future, we advise that you start by reading the manual which is completely free and purchase a drivers education course only if you feel the need for it.
"THE SIGN WITH THIS SHAPE AND COLOR IS A _____________ SIGN"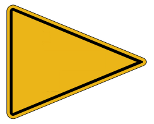 A. Railroad crossing
B. Wrong way
C. No passing zone
D. Stop
The color of this sign immediately allows you to identify this road sign as a warning sign, but do you know the meaning of the sign?
Practice Test Answers
Let's have a closer look at each one of the options and see which answer is correct.
Answer A to the DMV practice permit test NJ question suggests that this sign warns us about a railroad crossing ahead. This is not correct, since the sign that warns you about a railroad crossing ahead is actually round, not pennant-shaped.
Answer B to the NJ MVC practice test question states that this sign is telling us that we ended up on a one-way street or an exit ramp and are traveling in the wrong direction. This answer is incorrect because the "WRONG WAY" sign belongs to the family of regulatory signs and is red with white letters on it, while the sign in the question is clearly a yellow warning sign.
Answer C to the DMV NJ practice test question tells us that the sign warns us that we are entering the "no passing" zone. This sounds reasonable, but let's not rush with the answer and look at the last option.
Answer D to the NJ DMV practice permit test suggests that this is a stop sign. We really hope that by now you know what a stop sign looks like and that you will never confuse it with any other sign on the road. Remember that the stop sign is a regulatory sign, just like the "wrong way" sign and like other regulatory signs it uses red, white and black colors to attract your attention.
Correct Answer To NJ Permit Test Question
The correct answer to this NJ permit test question is C:

"THE SIGN WITH THIS SHAPE AND COLOR IS A "NO PASSING ZONE" SIGN"
While you should be able to identify this sign by color and shape alone, it usually has its name printed on it as well and looks like this: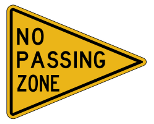 The "NO PASSING ZONE" is usually placed on the left side of the road facing the driver so you can clearly see the sign. It may be accompanied by a black and white regulatory sign that reads "DO NOT PASS".
Want to receive a practice permit test question to your twitter every day until you pass your permit test? Follow us on twitter and get unlimited sample test questions!