Hello again everyone.  Couple of days ago, we already published a great offer from DriversEd.com, when you could get a massive 40% discount and you did not even need any drivers ed discount code for that - the offer was valid for anyone who signed up and paid for the course that day.  Unfortunately, that offer is gone (yes, too late, all you sleepy heads who missed that chance), but we came up with another great life-hack that allows you to get 30% off almost any program on the site.  What's even more important, this offer will also work as a drivers ed discount code for behind the wheel!  That's right, you can get a 30% discount for your driving lessons!  Read on to find out how this is done.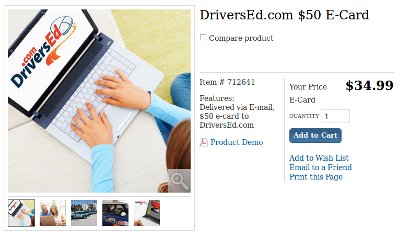 When we were Christmas shopping on the Costco website, being very inquisitive as we are, we could not bypass a chance to see if any driving school sells their services through this great wholesale outlet.  To our surprise, we were able to find a listing on the site, offering a "DriversEd.com $50 E-Card" (you can see the picture of the offer above).  According to the Costco website, this e-card can be used to pay for the following products:
Traffic school courses
In-car driving lessons
Insurance discount courses
Practice permit tests
High school credit courses
At this point, you are probably asking yourself: "what is this guy rambling about, what's so special about this e-card?"  Why not search the web for some 10% off driversed.com discount code and use it to pay directly on the DriversEd.com website?
Well, for starters, most of the drivers ed discount codes you find on the web are not valid for behind the  wheel lessons, they are only good for online courses, so using a code like that will just see you pay the full price.
Second of all, why use a 10% discount code when you can save up to 30% of your hard-earned money?
The catch here is that this e-card that is sold by Costco only cost $34.95, while it has a value of $50!  This means that by using this card instead of paying directly to DriversEd.com, you save 30%.  What's even greater, these e-cards are valid for all products at DriversEd.com, so these cards work as a discount code for behind the wheel and drivers ed discount code!
How Do I Get This Drivers Ed Discount Code for Behind The Wheel?
It's really quite simple.  Go to the Costco website and run a search for "DriversEd.com $50 E-Card".  This will take you to the page where you can read more information about this card and purchase it.  Just drop it into your card, fill in all of the required information and submit the payment.  Note that you will probably need a bunch of this cards, since driving lessons cost around $50 per hour.  Costco states that you can only purchase 4 cards per household, but we are not sure as to how they are going to control or enforce this rule.
Once the purchase is complete, Costco will e-mail you your e-cards.  Each each card has a code on it - this is your behind the wheel discount code, don't lose it.  Go to Driversed.com and register for the desired course, then navigate to the payment page and punch your discount code into the appropriate field.  Voilà!  You got your massive 30% discount for behind the wheel!
According to the site, Driversed offers driving lessons in California, Colorado, Georgia, Nevada and Texas, so residents from these states will be the ones who will benefit the most.
Now, while we primarily thought about using these discount codes for behind the wheel, you don't have to stop there.  Costco advertises that these drivers ed discount codes are also valid for traffic school, drivers education, practice permit test packages - virtually any course on the website.
This is it, guys. We are not sure how long the offer will last or how many e-cards they have, so you may want to use the opportunity now. Thanks for your attention and please share the article on twitter, facebook and google as much as possible so others may use this discount as well! We are trying to monitor major drivers ed websites for drivers ed discount codes and post them here as soon as we find offers worthy of your attention. Stay tuned for more tips on how to get discounted drivers education and behind the wheel lessons!