Have you spent much time studying Ohio road signs? If you have not, you should definitely dig into them now, especially if you are planning on taking the Ohio permit test some time soon. The temps test in Ohio contains two parts: road signs and road rules, and there are 20 questions on road signs that you will need to answer. Our Ohio practice permit test covers most of the Ohio road signs and road sign questions and today we are looking at one of such question in more details.
Sample Road Signs Question
Before we get down to the question, we wanted to remind you to read the official Ohio temps test booklet before you start taking this Ohio practice permit test. "How many questions are on the Ohio temps test, what do I need to study for the Ohio permit test, what if I fail the temps test in Ohio?" The booklet answers all these questions and it is packed with study materials that will carry you right through the test, so don't dismiss the study guide just because it is free. Read the book, it answers most of your questions about the Ohio permit test.
"WHAT IS THE MEANING OF THIS SIGN?"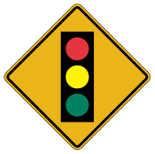 A. The traffic signal ahead is red

B. The traffic signal ahead is broken

C. There will be no traffic signals ahead

D. There is a traffic signal ahead
Skip to the end of the page to find out if your answer is correct or read on for details to each one of these answers.
Ohio Permit Test Answers
Answer A to the Ohio practice permit test question suggests that the sign warns you that the traffic signal ahead is red. Does this sound logical to you? What if the traffic signal changes, is the sign taken down right away? This is definitely not the right answer.
Answer B to this practice Ohio temps test question tells us that the sign warns us about the traffic light ahead being broken. Why make up a sign that something is broken instead of fixing it in the first place? This answer is incorrect.
Answer C to the Ohio permit practice test question offers us an interesting notion that the sign warns us that there will be no traffic signals ahead. Once again, there is simply no reason to develop road signs like this one. This answer is incorrect.
Answer D to the practice temps test question states that the sign warns us that we are approaching a traffic signal. This looks like the most reasonable answer out of the options we were offered.
Correct Temps Test Answer
The correct answer to this Ohio permit test question is D:

"THE SIGN IN THE PICTURE WARNS US THERE IS A TRAFFIC SIGNAL AHEAD"
This sign is usually installed in places where it may be hard to see the traffic light from far away, for example, if the road is curving or there is a sharp turn. Red signal on the traffic light may cause the cars to accumulate before the intersection and you may simply not have enough space to slow down after making that turn. The warning sign showing you that there is a traffic signal ahead allows you to slow down in advance and to avoid a potentially dangerous situation. Always slow down and proceed with caution when you see this sign.
Want to receive a practice permit test question to your twitter every day until you pass your permit test? Follow us on twitter and get unlimited sample test questions!